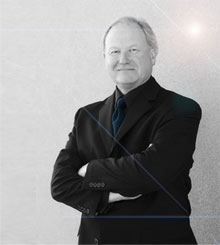 -DuWayne Johnson, President
Premier Management
Consulting, Inc.
Meet the President
DuWayne Johnson is President and Founder of Premier Management Consulting, Inc. He possesses over 20 years of banking experience, which gives DuWayne the depth of knowledge and practical application of sound management principals needed for management consulting. His banking experience includes working with small independent banks as well as larger bank affiliates of Norwest and Bremer Financial Corporation.
The last eleven years of his banking experience he served as Senior Vice President and Cashier with Bremer Bank of Alexandria. During that time the bank grew from $60 million to $220 million, including the addition of four branches. DuWayne is recognized for his expertise in three broad areas: Bank Administration, Human Resource Management and Technologies. He has developed each area to provide greater effectiveness and profitability to the bank.
DuWayne is highly respected in professional and educational circles. He has served on the faculty of the Minnesota Banker's Association Operation's School and the MBA Human Resources Committee. He has instructed courses on bank management and supervision for the American Institute of Banking. He has also been a selected speaker for the Financial Institutions Microcomputer Information Network trade fair.